I had never really thought about climbing Kilimanjaro or any of the big peaks of the world. It always seemed too lofty and expensive a goal for me: the type of adventure that world-class athletes and the uber-fitness-conscious elites would engage in. Back in the spring of 2021, I was invited to join some friends on a Kilimanjaro climb. I started my research and found that it wasn't as inaccessible, expensive, or technical as I had assumed. We chose to climb with Kilimanjaro Sunrise who offered the level of service we wanted at a reasonable price point.
I started training, but an injury pushed back our climb date and, fortunately, the staff at Kilimanjaro Sunrise were very accommodating and helpful. With a few extra months of recovery and training under my belt, my crew and I began the long journey to Tanzania via Doha.
Upon arrival in Tanzania, we were met by Kilimanjaro Sunrise staff who drove us to our lodge, where we were greeted by friendly staff and cozy accommodations that far exceeded my expectations. We gave ourselves a buffer day after our arrival, which I highly recommend, to get used to the time zone and see some of the sights. It also gave us the required time to meet with our guides to discuss gear, expectations, the climb itself, and generally get acquainted. It really set the tone for the trip and made us feel more comfortable about the journey we were embarking on.
The morning of our climb arrived and we packed up our gear for the mountain. Planet Lodge kindly stored the items we didn't need with us. After weighing our bags (porters are limited to carrying a max of 15 kg for their safety) and meeting the porters and crew that would be accompanying us, we loaded into the van and made our way to the mountain. The drive was comfortable and it was exciting to see Maasai walking with their herds, ladies in the most colorful, beautiful skirts I've ever seen, monkeys sitting in trees, and the change from arid landscape to lush forest.
After checking in at Londorossi Gate we drove to Lemosho Gate where we had a healthy, balanced bagged lunch while some curious Colobus monkeys played a few feet from us. Flanked by our guides we began to slowly make our way through the rainforest. The pace at these lower altitudes felt maddeningly slow since we are unusually fast hikers, but we trusted our guides who were getting us used to a pace that would keep us safe as we ascended at higher altitudes, allowing us to acclimatize.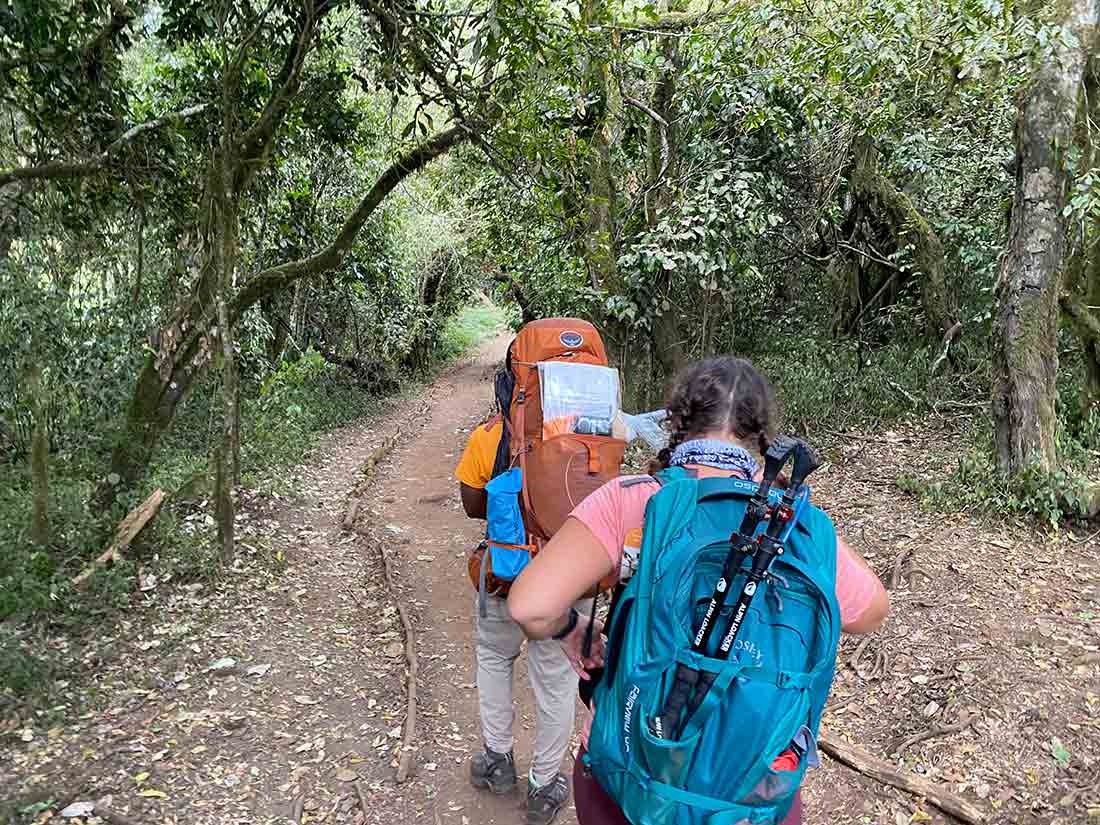 By the time we arrived at camp, everything was set up. We quickly settled into our daily end-of-day routine: We went to our tents where our personal gear was waiting and a porter brought us warm water to freshen up before changing into our camp clothes and slippers (which I highly recommend bringing). After freshening up we headed to the dining tent where there were snacks and tea. Dinner arrived and it was always delicious and warm. After eating with the guides they did a health check, we chatted about the day and discussed the plan for the following day. Knowing what to expect was helpful for preparing mentally and physically and I felt that they took the time to ensure we were acclimatizing and feeling well.
Feeling full and exhausted we headed to our tents which had incredibly comfortable sleeping pads, warm sleeping bags, and ample space. The tents themselves were also really cool because they diverted condensation to the outer vestibule so we were always super warm and dry.
Every morning we were awakened by our favorite porter bringing us coffee and a kind smile. Once dressed we packed our personal belongings we wouldn't need until camp and set them together for the porters to take. After breakfast, which usually consisted of tea/coffee, millet/porridge, crepes, and fresh fruit we had another health check. Since we opted for a private toilet tent (which was so much nicer than the camp pit toilets), we were given time to utilize the facilities and began another day of climbing as the porters finished tearing down the rest of the camp.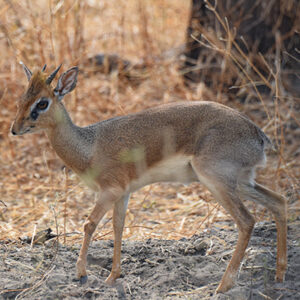 On day 2 you pass out of the rainforest and into the shrubby heather Moorland zone where the open land sprawls in every direction and you get your first real sights of Kilimanjaro, Uhuru Peak gazing dauntingly down at you. I particularly enjoyed camping at Shira I because I got to see one of my favorite animals: the dik-dik.
Day 3 holds a special place in my heart. The hiking was long but easy with some of the most stunning views from both Shira Cathedral and Shira II camp. We had plenty of downtime in the afternoon and were treated to songs and dancing with our crew. Their energy and joy were infectious they are what really made the trip memorable. So strong is their sense of community that our guide even spent the previous night searching for a lost hiker climbing with another company. We also found out that our security team had to keep leading people out of our camp because they thought we were some sort of VIPs due to our luxurious domed dining tent (and the presence of camp security).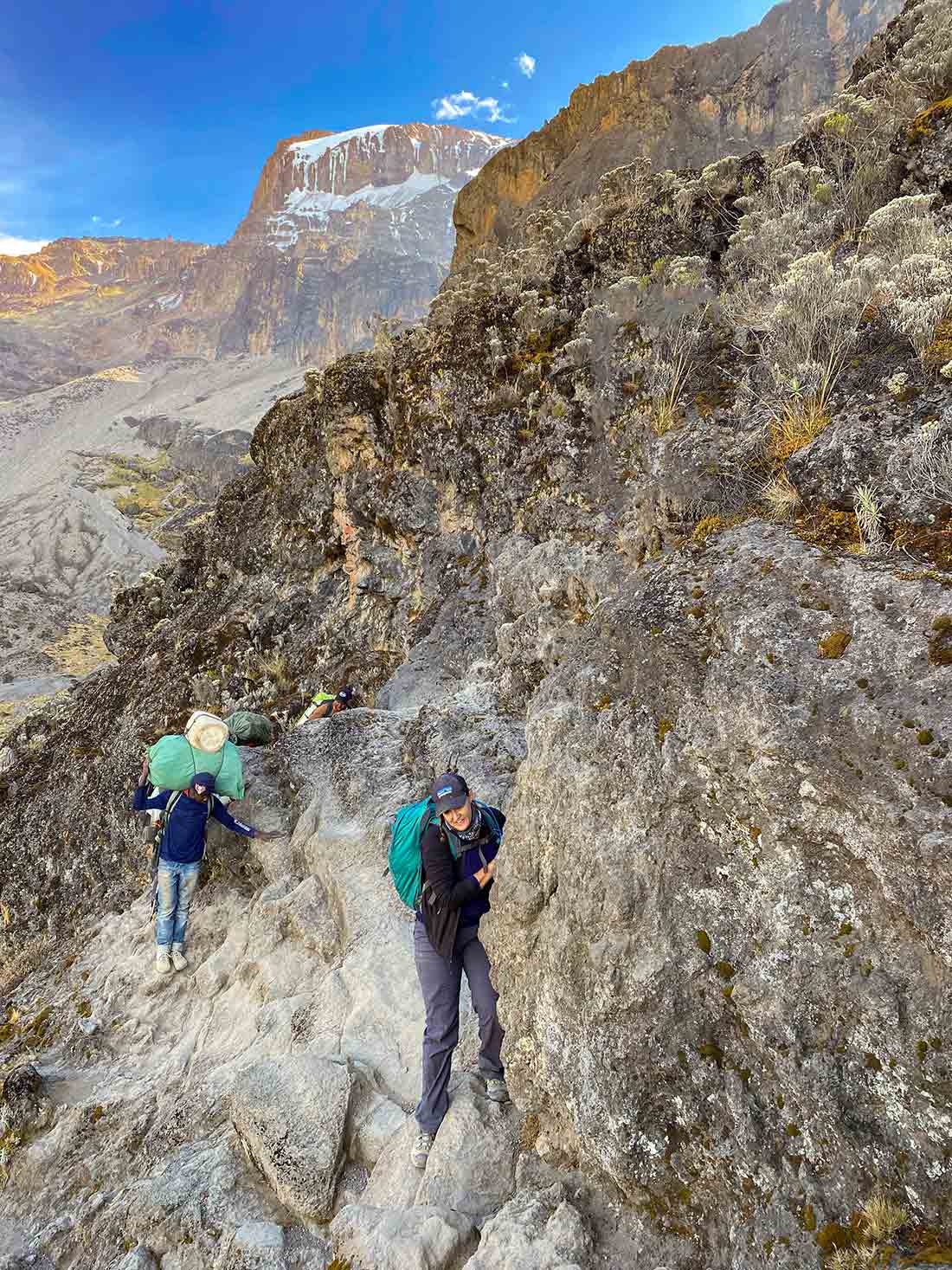 Day 4 wasn't particularly difficult but I was starting to feel the elevation and days on my feet. The lunch break at Lava Tower was well-timed and brought me back to life for the journey to Barranco Camp. The following day we climbed the famed Barranco Wall and I loved every moment of it; scrambling up the rock wall, the stunning views as you quickly ascended, and the sense of accomplishment as I stood atop the wall with a sea of clouds just below.
The day before summit night felt like a whirlwind. The full scale of what we were about to do set in, excitement and nervousness mixing in equal measure. It was a tiring day, which was good because it made necessary napping easier.
Summit night was immense, to say the least. We began our ascent around 11 p.m. by the light of our headlamps. Up to this point, I had O2 levels in the 90s but it dipped to 86 just before we started. Fortunately, I had opted to rent Altox (oxygen for use at high altitudes) in the event that I couldn't acclimate, so the guides let me begin the ascent. Since my energy levels were low my friends quickly outpaced me. One of the guides and a few porters went ahead to make sure they didn't ascend too quickly while the other guide and the porter carrying the Altox kept a slower pace with me. It was cold but the effort kept my core warm and made me glad I had dressed in layers. Exhausted, I arrived at Stella Point and took a break where one of our porters had hot tea waiting. Encouraged by the warmth of the rising sun as well as a radio call from my friends cheering me on, I got moving again, determined to make the summit. On the final stretch to the summit my guides did something that still makes me cry because it so embodies their spirit and kindness: they began to sing. Their voices, gently singing their beautiful song of welcome, crept into my soul and ignited a strength in me that I didn't know was there. It gave me courage, and hope, and, to my surprise, I found myself standing at the summit of Kilimanjaro: Uhuru Peak. I had done it!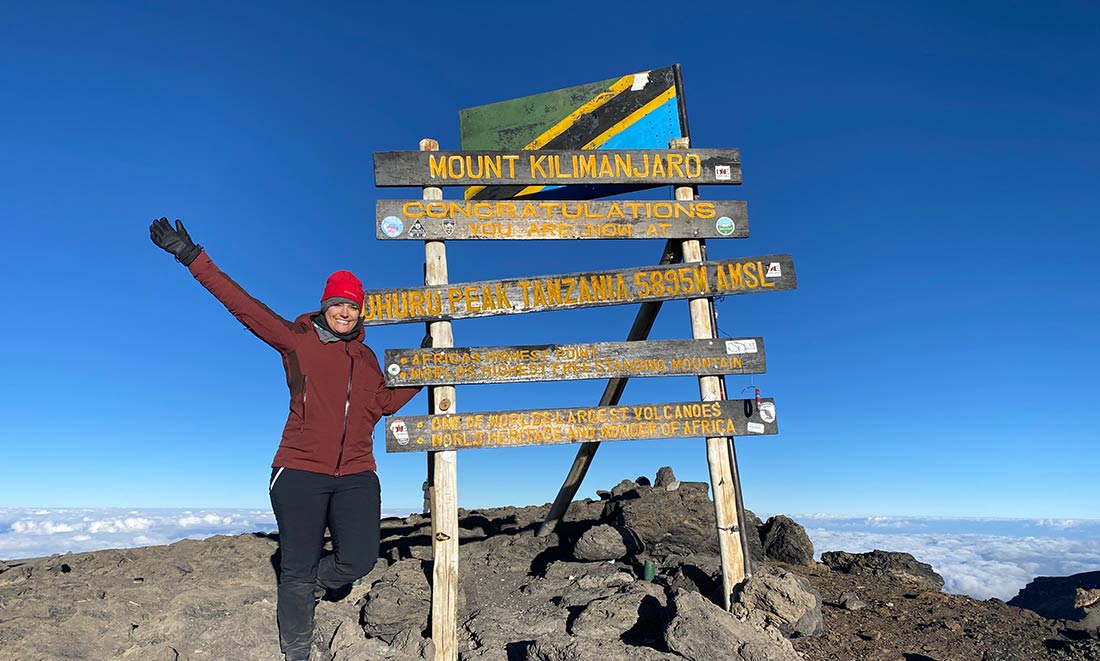 After photos and reveling in our accomplishment we began the long descent to Mweka Camp. The views along the way were stunning and otherworldly. In the rockier parts of our descent, I became jelly-legged and the efforts from the day began to take their toll. As I plodded downhill I found I was flanked by a guide and a few porters we had met up with. They helped me down the rockier terrain and caught me when I tripped and stumbled. I couldn't help but feel like I had a team of big brothers protecting me. I'll never forget their patience and care.
On the final day, we descended quickly through the rainforest, feeling exhilarated by what we had just accomplished. Unfortunately, one of our climbing partners was having some respiratory issues, but the guides ensured he was safe and worked proactively to secure emergency medical attention if his condition deteriorated. Fortunately, he held steady and we all made it safely to Mweka Gate.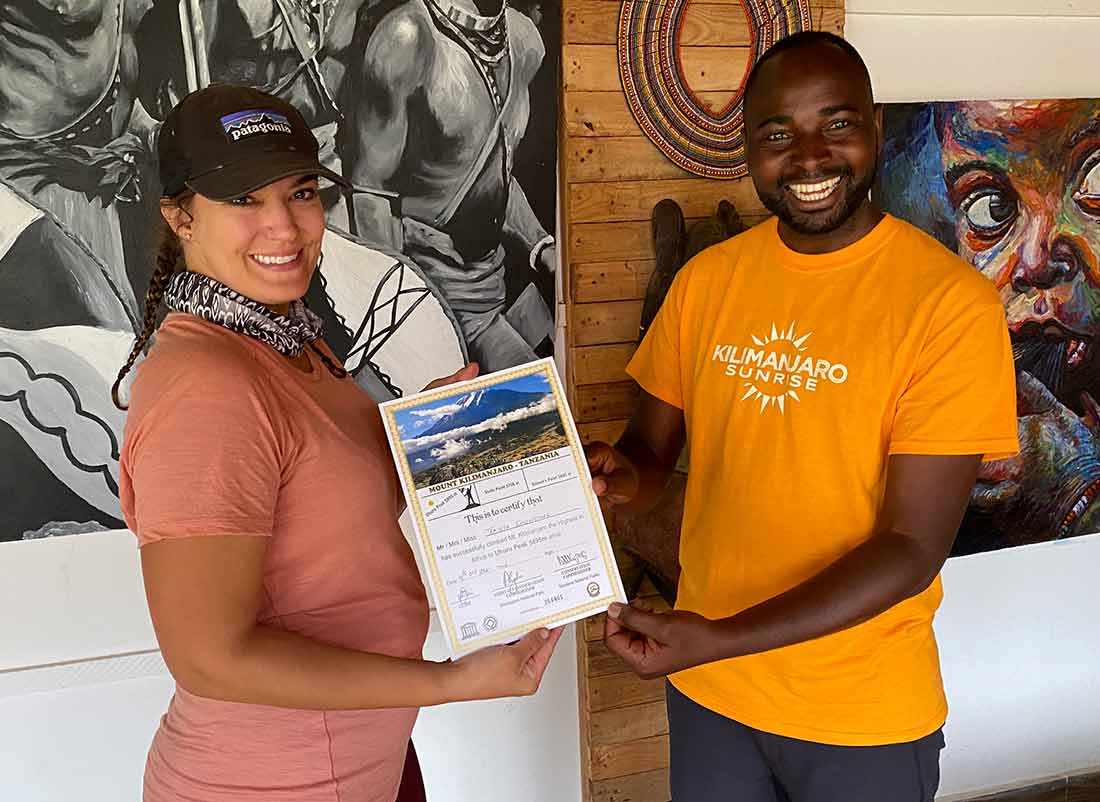 We all gathered together with the crew who kindly brought us cake, a traditional Tanzanian lunch, and some celebratory beers. We received our climbing certificates with much pomp and circumstance. We made a little ceremony of our own to distribute tips and express our gratitude to the guides and porters who made our climb so memorable. Exhausted but happy we were transported back to our lodge where I indulged in the most glorious shower I have ever had.